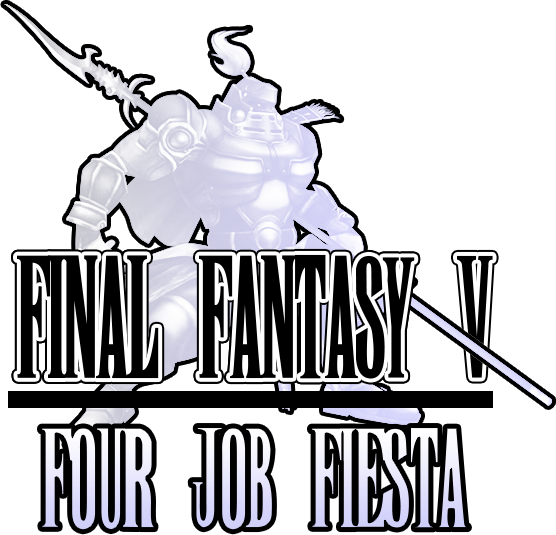 Hey friends!
I just got done with Final Fantasy V, but I really want to experiment a bit more with the game (especially after listening to the
Retronauts episode about it
). So what better way to do that then get everyone involved in a
Four Job Fiesta!
This was Val's idea, as he brought it up in the
Scotty FF thread
, but Val runs so many things around this forum that I'll take the lead here.
If you're unfamiliar with the concept (as I was until, like, 4 days ago), here's how we'll do it.
[INDENT]1. We'll do a
Normal run
. From the
Four Job Fiesta site
, here's the description:
[INDENT]Players will be assigned one class from each crystal. Until all four classes are unlocked, players are only permitted to use the classes they have currently unlocked. Bare/Suppin/Freelance can only be used until the Wind Crystal job is unlocked.
[/INDENT]
2. There's a Twitter bot that handles everything, found on the aforementioned
Four Job Fiesta
site. It'll guide us through what we're each doing.
3. Let's all roll a different job set. That way, when we come into the thread to discuss, we can compare notes and our unique experiences.
4. If you want, you can always make a pledge to Child's Play charity through the FJF site. The wider community FJF time window will end on August 31.[/INDENT]
So, who's in?
[USER=30663]@Valigarmander[/USER] [USER=37303]@smol Kat[/USER] [USER=31048]@ScottyMcGee[/USER] [USER=34539]@I am nobody[/USER] [USER=27765]@X-3[/USER] [USER=35827]@Random User[/USER] [USER=16999]@Jesus[/USER] [USER=17381]@Booyakasha[/USER] [USER=26554]@Microphone_Kirby[/USER] @anyone else who might be interested
Players
1. Marilink
2. Val
3. Kat
4. Microphone_Kirby
5. ScottyMcGee
6.
7.
8.
...