Ohhhhh nooooooo. Games are too expensive/Industry Veterans won't stop being sex pests/I'm a pedant that needs to find one new game a day for December or I will
W A S T E A W A Y.
Well, that's okay... in a strangely schizophrenic sort of way. But Tazy has you covered!
For every day in December, ending on the 31st this time and not the 25th, I will recommend you a game that either got the pass at some point in its history, was a little popular but was forgotten in the shuffle, or is good enough for personal reasons that you can't judge me for.
Oh, and I've done this once already:
http://forums.vgf.com/viewtopic.php?f=498&t=98201
I'm not using anything I already had in this topic here. Other than that the sky is the literal limit. AND If for some reason I skip a day, I will put as many games in as I have to in order to catch up.
So other than a few altercations, and some anger at the dinner table, we're all set! Let's get started immediately!
Day 1: Panic Restaurant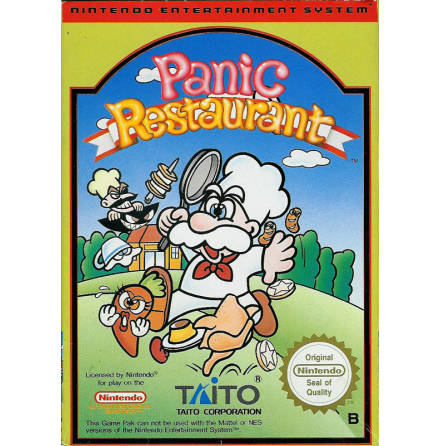 Perfect For
:
- Food Connoisseurs
- Lovers of the 8-bit 2d platform game
- Chefs that secretly hate food and other chefs.
What You Need
: A Nintendo Entertainment System, or get that E Word set up.
Sometimes you need something simple. Basic. Easy to understand. Deconstructions and in depth mechanics are nice but not everyone wants to wrack their brain every time they play video games. It's like food, sometimes you want Mabodon (a rice dish with ground pork, red bell peppers, various sauces and tofu), and yet other days you want a pizza with one topping on it. In much the same way, sometimes you just need a easy to understand platformer to wash the worries away. Is that so wrong? ...... STOP JUDGING MEEEEE!!!!!
Oh no! Ohdove has taken your restaurant for himself using his sentient ingredients. He's so cocky he tells you "Come On!" on his own menu that he already made for the restaurant he stole from you! What a jerk! Now you gotta hurry over and get it back, fighting his living appliances and food to get to Ohdove himself. Panic Restaurant is a very simple platformer with no big twists; you jump, you swing your pan, you gamble in order to get health and lives using the coins you collect in a stage, and there are minigames. You can get other utensils to help you along the way, which disappear if you get hit, but Panic Restaurant never truly demands that you keep these things to survive. It has difficulty, but you can overcome it with some care and patience. Not to mention that the whole game handles very well and has a cute art style to bring everything together. If you are playing a ton of old games or new, there's little reason to avoid this one. Definitely have it... to go!