All right, first run is done. Lots of kinks to work out.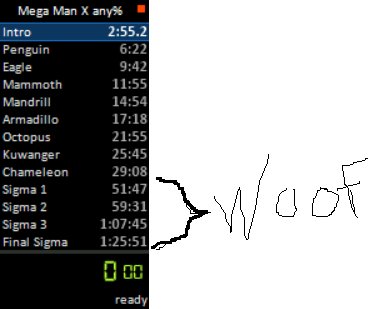 So here is what I'm picking up:
-Health packs in Flame Mammoth, Armored Armadillo, Sting Chameleon
-Sub-tanks in Storm Eagle, Armored Armadillo*
-Body Armor* (in Sting Chameleon's stage)
Asterisked items are items that I didn't pick up in this run, very much regretted not getting, and will get in future runs. It's gonna take a very long time to get the Body Armor, but I just couldn't hang with the bosses in Sigma's Lair. They hit like trucks. It will definitely benefit me in the long run.
My goal is sub-50. With some practice, I really think I can get there. Gonna try to do one run per night right after the kiddo's bedtime.
btw, some more boss weakness tips:
-Body armor Cyclops dude - weak to Boomerang (which Sting Chameleon is also weak to, so be careful)
-Sigma 1 - The Spider thing is the worst boss ever, just try to hit him with BLUE charge shots (not pink--they don't work well on him)
-Sigma 2 - The Face boss is weak to Sting, so don't waste it all on Storm Eagle.
-Sigma 3 - The Tank is weak to Boomerang. It's not too bad.
-Sigma's Dog - Weak to Ice
-Jedi Sigma - Weak to Spark
-Final Sigma - Weak to Rolling Shield