Moderator: Valigarmander
Supermod
Posts: 49558
Joined: Thu Jun 01, 2006 8:22 pm
Location: World -1
Has thanked: 45 times
Been thanked: 64 times
Contact:
[MEDIA=youtube]G-FU401tydo[/MEDIA]
Finally, a
real
hero.
---
Supermod
Posts: 41090
Joined: Sun Aug 18, 2002 1:00 am
Location: Enough. My tilde has tired and shall take its leave of you.
Has thanked: 38 times
Been thanked: 16 times
Contact:
The cover image says it all. This is beautiful.
I muttered 'light as a board, stiff as a feather' for 2 days straight and now I've ascended, ;aughing at olympus and zeus is crying
---
Posts: 29057
Joined: Thu Sep 14, 2000 1:00 am
Location: Not the Thunder Temple.
Has thanked: 6 times
Been thanked: 9 times
Contact: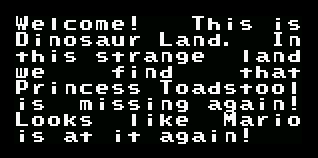 You gotta appreciate the attention to detail in things like this.
---
Posts: 5185
Joined: Thu Jun 22, 2006 10:28 pm
Location: New Jersey
Has thanked: 2 times
Been thanked: 8 times
Contact:
wait but I actually thought for a moment there'd be an official Nintendo game where you play as Bowser in a Super Mario Bros.-type platformer
SUPER FIGHTING ROBOT
---
---
Posts: 14299
Joined: Wed May 10, 2000 1:00 am
Been thanked: 5 times
By the way, all the changes are aesthetic; there are no new levels. It's literally the same game save for the model swaps.

Pretty good model swaps, at least. Bowser still has Mario's voice, though.
---
---