If you previously registered on VGF XenForo boards, you will need to use the forgot password feature in order to be able to post here. If you do not receive a password reset by e-mail, use the contact page or post in registration/login help.
Moderator: Scarecrow
Posts: 8653
Joined: Tue Oct 03, 2006 7:24 pm
Location: Hetalia
Pokémon has been around for 21 years today. Let's celebrate!
-Bow Chika Bow Wow
-Your offense only makes me stronger.
---
Supermod
Posts: 17657
Joined: Tue Nov 07, 2000 2:00 am
Location: Wisconsinland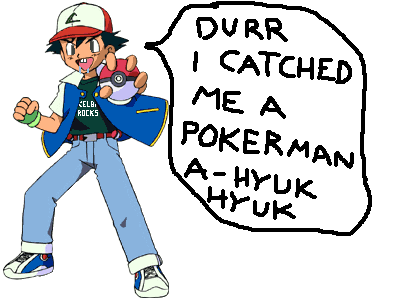 boo------------------------------vgf's resident crumbum
---
---
Posts: 27950
Joined: Thu Jun 08, 2000 1:00 am
Location: California, U.S.A
Has it been that long? I guess I wasn't aware of it until a year or so later then. I remember it was called a fad, people really thought it would dry up, hah.
---
Administrator
Posts: 41622
Joined: Sun Jul 30, 2000 1:00 am
Location: ǝlod ɥʇnos ǝɥʇ ɟo ɥʇɹou
Contact:
A great reason to post...
She lives
in the
clouds and
talks to
the birds...
Happiest faerie
of VGF.
---
Posts: 5015
Joined: Thu Jun 22, 2006 10:28 pm
Location: New Jersey
Contact:
yayyyyy I wish I were more of a fan to really care
SUPER FIGHTING ROBOT
---